Based in Byron Bay Sarah Elison is a sought-after Australian interior stylist and product designer with a distinctive aesthetic that makes high-end design livable and accessible. She fuses textures with rounded shapes and bold proportions that place her pieces somewhere between furniture and sculpture. She launched her eponymous furniture line in 2017 and now aims to make her designs accessible to more people, she has partnered with Design at your fingertips who will be the exclusive North American business partner. DWR now offers a curated selection of Ellison's latest furniture, including the spectacular Muse sofa, as well as the Huggy swivel chair, Yoko bed, Paloma coffee table, Pepé side table, and more. Sarah Ellison's thoughts on the collection: "I'm inspired by the 1970s – upholstered sofas and tables with big legs and materials like velvet, chrome and rattan." To mark Ellison's DWR debut in the US, she's sharing her home office space in Byron Bay and talking a bit about her design process in this month's article. Where I work.
What is your studio/work environment like?
I work from my home in Byron Bay, my team is based at our head office in Sydney and I travel back and forth to spend face-to-face time with my team.
How is your space organised/arranged?
I try to keep my main office clean while my materials library is usually a flurry of activity. Especially during design sessions!
If you could change one thing in your workspace, what would it be?
Working from home is a blessing to be able to spend time with my son Blaze (he's 7), however, the kids don't always understand that important Zoom calls aren't the perfect time for mom to come play! It's a new world but I'm definitely learning to adapt like everyone else.
How long have you been in this space? Where did you work before that?
I've been in this home office for 5 years, it's a small studio next to the main living areas so it feels very connected. As a working mom, my office is often nowhere and everywhere at the same time. It's at home, at the office, at the skate park watching my son skate, or on conference calls in the school parking lot. I always have my sketchbook with me. Creativity is a weird thing, it doesn't care about your schedule or your schedule, you can't plan it and it can come at the weirdest times so I have to be ready to draw immediately if an idea strikes me. come !
Have you had to make adjustments to the way you work because of the pandemic?
I don't travel as much, obviously, so staying connected to my team was tricky. Product development has also become a much slower process. I used to visit my creators regularly and we could solve problems together and quickly find the solution. This process is certainly more difficult now. We all made it work, but I thrive on in-person collaboration, especially in the design process. There's something magnetic about crafting ideas in person and the excitement that comes with it. Luckily, we're able to do it a bit more, but my team and I have adapted pretty well to remote design as well.
How do you see things changing in your workplace with COVID-19 now part of our reality?
I really think the way we work now is here to stay. Product development is simply not going back to the old ways anytime soon. I've been on planes every month before, meeting our teams around the world, and we won't be going back there.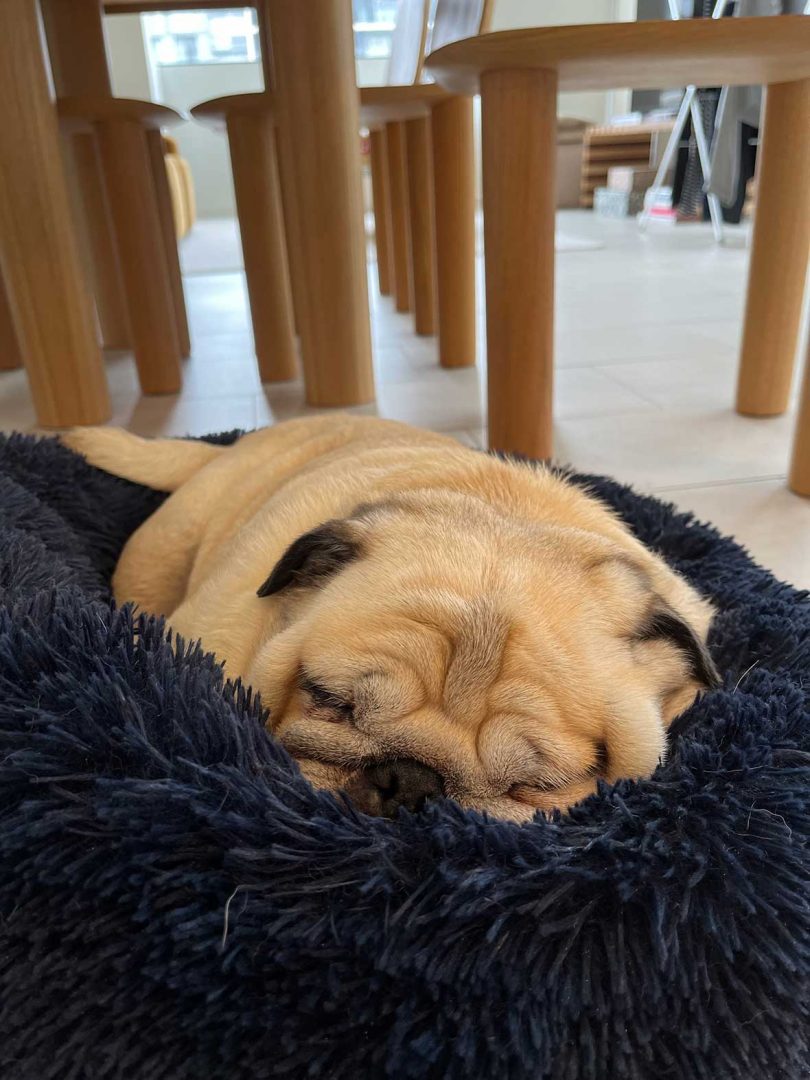 Is there an office pet?
We have quite a few in fact. Our head office usually has a rotating list of fur babies on our teams. 12-year-old Doug the Pug is the office regular and can often be heard snoring in the background of our Zoom calls.
Do you need background music? If so, what are your favorites?
In fact, I prefer to design in silence to keep my thoughts clear.
How do you record ideas?
Moleskine notebooks and a pencil throughout.
Do you have an inspiration board? What's on it right now?
Lots of vintage fashion photography.
What is your typical work style?
Pretty random. Creativity for me can't be structured, if I don't feel inspired I can't force it. Obviously there are a lot of team meetings, but apart from that I really try to be flexible in my approach to get the best results.
What does your creative process and/or creative workflow look like? Does it change every project or does it stay the same?

It really changes with every project. I'm a big draftsman and usually every idea starts there, from the initial sketches, I work with my design team to flesh things out in more detail, and then we add more structure to the development and sampling process. For my collections, I usually go piece by piece. I'll often design a sofa first, then use that to dictate what the chair and coffee table should look like if I were to style them in a room, and then I'll design around that. My training in styling influences this process a bit. Assemble things one at a time. It's a fun process that my team learned along the way. My sales team might say "we need a new coffee table", but until I know what chair I want with a sofa, I can't design a coffee table!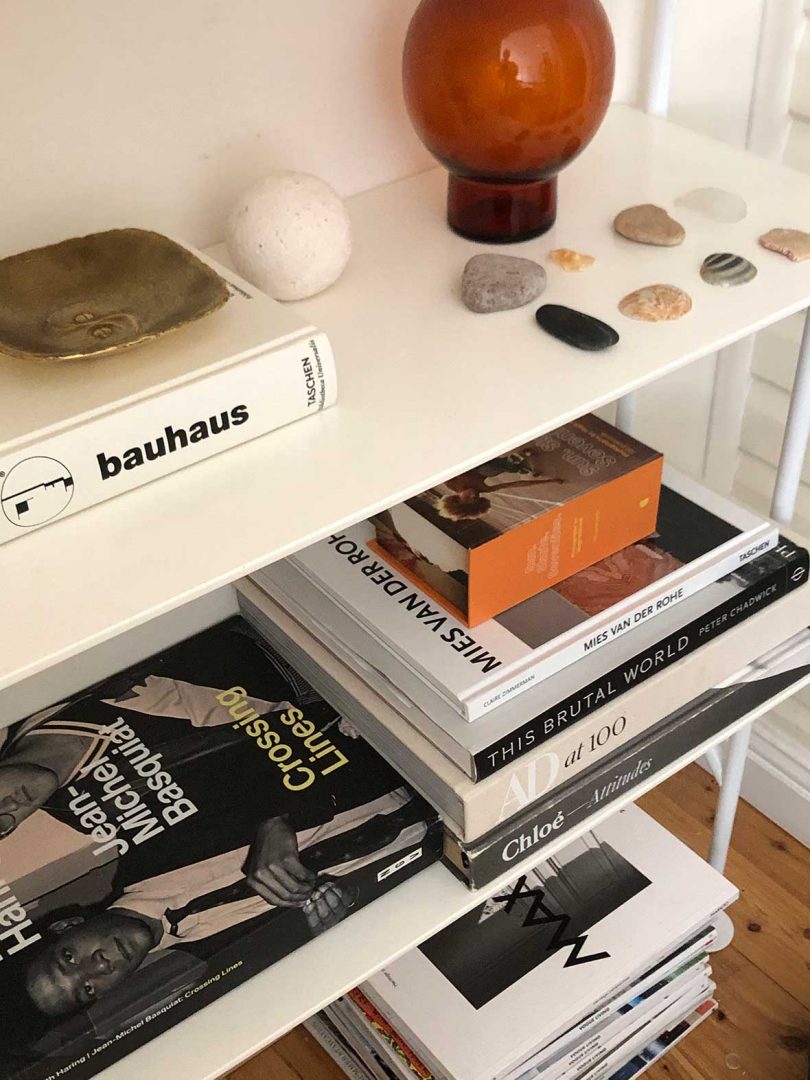 What kind of art/design/objects could you have scattered in space?
Lots of samples we designed that never actually went into production!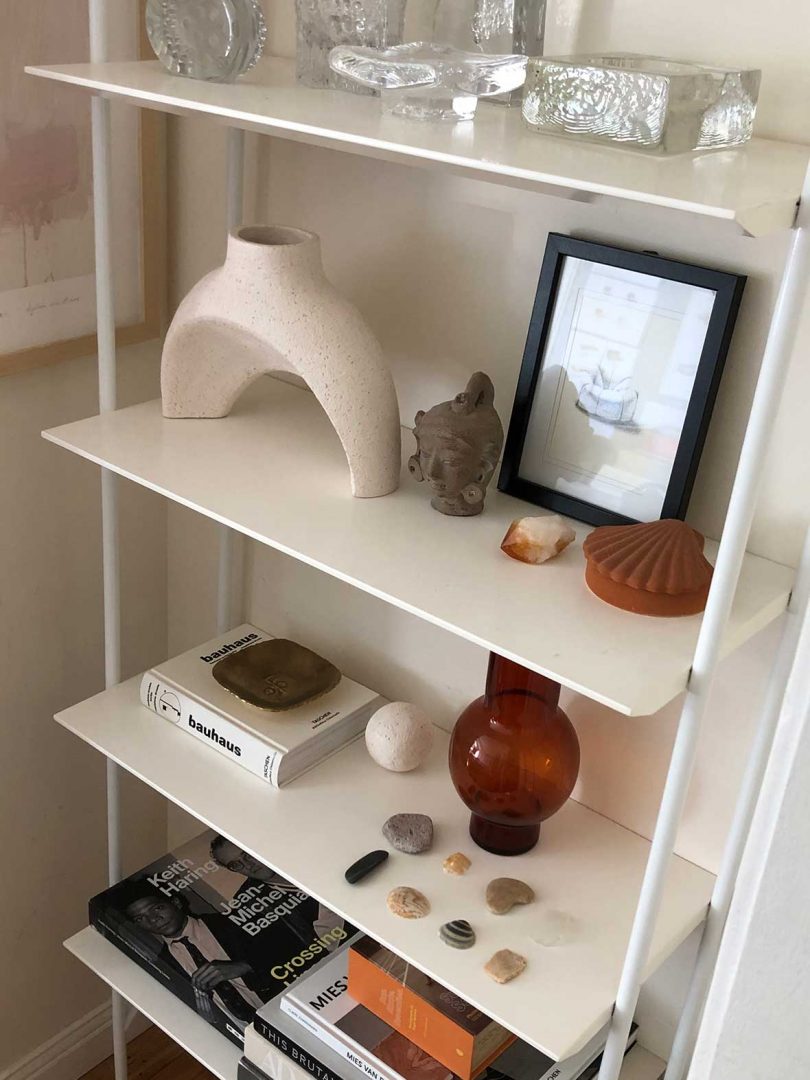 Are there any tools and/or machines in your space?
My favorite tools are my good old sketchbook and my pencil, followed by my Apple Pencil and my iPad.
Let's talk about how you're wired. Tell us about your technological arsenal/devices.
I love my Apple Pencil and iPad for drawing. We work with SolidWorks for our engineering design work.
What's on your desk right now?
A nice branded mousepad with my initials that my team gave me for Christmas, fabric, stone and wood swatches that I have to sign for new pieces that I'm working on exclusively for DWR. Also the necessities of 2022: a glass of water, car keys and a face mask!
Is there a favorite project/piece you've worked on?
It's like asking to choose a favorite child! I might say my Huggy chair, mainly because of the incredible love our customers have for it! It's been overwhelming and it gives people so much joy. This is the greatest gift for me.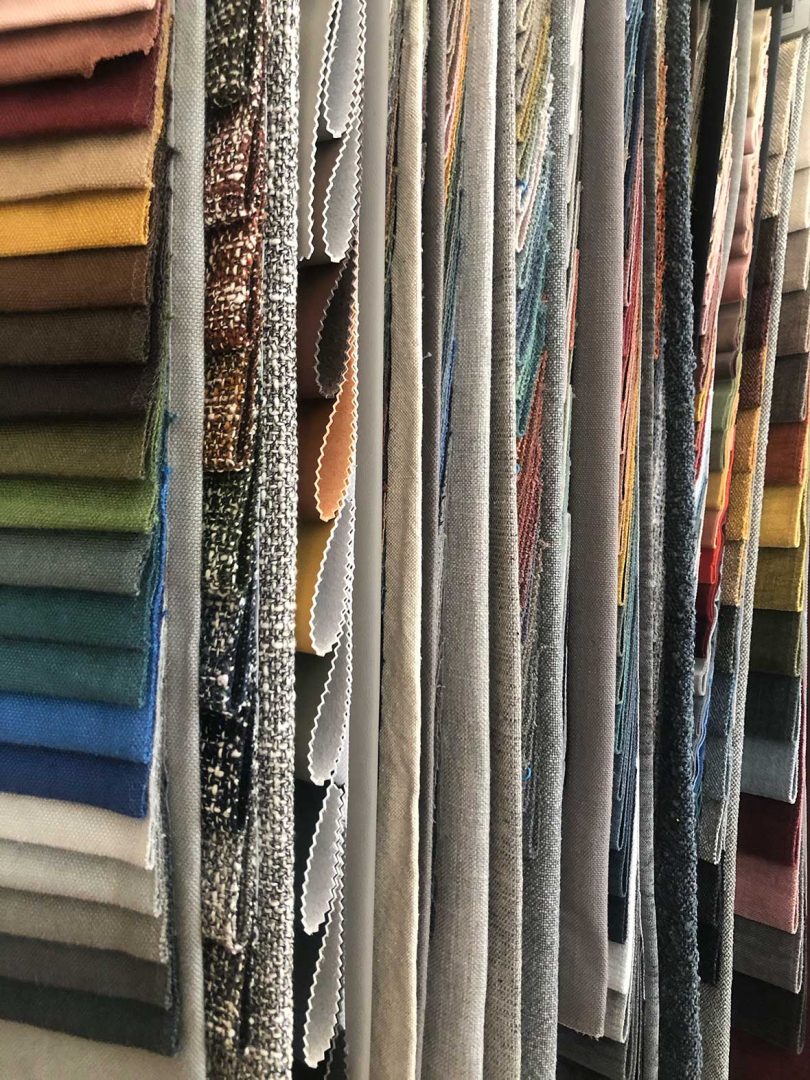 Tell us about a current project you are working on. What was the inspiration behind it?
I'm in design mode for my new collection due later this year as well as some exclusive pieces I'll be launching with DWR in future seasons to continue this initial launch. After a few years of the pandemic, I'm really drawn to human connection, comfort, and a sense of security in all its forms, so that's a big theme in my work right now. Working with the DWR design team has been a pleasure and there are still some exciting launches to come.
Do you have something in your home that you designed/created?
Everything in my house is my collection. If I don't live with it every day, how can I expect anyone else to! I have a few extra vintage pieces but 90% of my house comes from my collection.
For more information on Sarah Ellison's line of furniture available through Design Within Reach, visit dwr.com.
This post contains affiliate links, so if you make a purchase from an affiliate link, we earn a commission. Thank you for supporting Design Milk!