Bill Dubecky fell into photography, entirely by accident, in 1966. Thus began a career in which he captured iconic sports images.
Content of the article
Bill Dubecky turned the negatives into positives.
Advertising
This ad has not yet loaded, but your article continues below.
Content of the article
Since 1966 he has photographed virtually everything from Saskatchewan Roughriders games to minor hockey tournaments, dance lessons, weddings and celebrities (see: John Candy, Bret Hart, Gordie Howe) to … Well, you name it.
Who needs a map of Regina – or Saskatchewan, for that matter – when you're Bill Dubecky? He has seen and filmed everything, and the story is far from over.
The awesome man behind Royal Studios shared his story with me the other day, over hot chocolate at a local donut store. He brought a box of albums from various seasons of Regina Pats history and a computer he stored everything on.
And I mean EVERYTHING.
Click on "1986", for example, and a large Roughriders file appears. Click on it and you will find a list of players from that team. Each player file contains many photos.
There's Joe Paopao, the Throwin 'Samoan, in the pocket.
There's Ray Elgaard catching a winning touchdown pass in the Labor Day Classic.
There is Roger Aldag, with curly hair.
And there is Michael Elarms, Bobby Johnson, Harry Skipper, Scott Virkus, Bernard Quarles, Daric Zeno, a promising rookie named Bobby Jurasin…
Bill is also compiling a full album dedicated to the Roughriders' place of honor. As the team's official photographer for several decades, who better to dive into such a project? After all, he documented the first dinner at the Plaza of Honor, in 1987.
Advertising
This ad has not yet loaded, but your article continues below.
Content of the article
So there's Ron Lancaster… George Reed… Gordon Barber… Dean Griffing… Glenn Dobbs… Hugh Campbell… Bill Baker… Ed McQuarters… Joey Walters… Kent Austin… one awesome grid after another.
Fittingly, Bill's career as a photographer began in a year in which the Roughriders won the first Gray Cup in franchise history.
Bill actually got his start in sales, with a company called Elan Photography.
One fine day, one of the photographers did not show up for an assignment: a wedding. Crisis!
"So I went out and shot it," Bill said, "and I've been shooting ever since. "
After photographing four weddings – and not a single funeral, for the record – Bill, then 22, realized he possessed a passion and aptitude for something he had gone through entirely by accident.
In no time, he was photographing 30 to 40 weddings a year. The pictures, it can be safely assumed, turned out to be considerably better than some of the weddings.
A formal association with the local sports scene began in 1974, when a deal was struck with then Pats general manager Del Wilson. A few months later, the Pats won the Memorial Cup.
They returned to the CHL Championship tournament in 1980, when the event started in Brandon and ended in Regina.
The Pats advanced to the Cup by defeating the Victoria Cougars in the WHL Championship Series. An overtime goal from Brent Pascal, who repelled a rebound from a Jock Callander shot at goaltender Kevin Eastman on April 27, 1980, ended the best-of-seven streak almost 70 minutes after Game 5.
Advertising
This ad has not yet loaded, but your article continues below.
Content of the article
It goes without saying that Bill was there, capturing an iconic image of Pats captain Doug Wickenheiser carrying a trophy in the beautiful company of his teammates.
By 1983, Bill was also involved with the Roughriders in an official capacity. And so it will be for 40 years, with the Roughriders' home win in the 2013 Gray Cup game providing the perfect punctuation mark.
Along the way, Bill took what would be his most widely recognizable photograph – showing Dave Ridgway hitting the 1989 Gray Cup game-winning basket.
Bill's image from The Kick was quickly turned into a poster.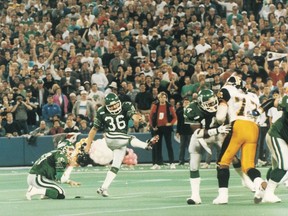 At the time, all photos were shot on film. Bill wasn't exactly sure what he had about the 1989 classic, or any shoot, until the film was developed.
He used cinema until 2008, when the digital transformation began.
There is still room to dig into the negatives. Compiling the Pats' albums has become a pandemic project. Ditto for the Plaza of Honor collection. Both initiatives took countless hours at the kitchen table, which is not necessarily used for culinary purposes.
"It was a lot of fun putting them together," he says, "until my eyes went crazy after a while."
It is a laborious and lengthy process, which requires converting hundreds – thousands! – negatives in a printed image. Yet not a minute goes by without Bill enjoying an ever-strong career – nearly 60 years after moving from Winnipeg to Regina in 1962 to take a job with Queen City Cleaners.
Advertising
This ad has not yet loaded, but your article continues below.
Content of the article
And there is no tendency to "close" down.
"I'm one of those people who can say they worked for 60 years and never worked a day," Bill says. "I have never worked for a salary in my whole life.
"Some people say, 'When are you going to retire? I must have a job to retire.
News seems to fly to us faster all the time. From COVID-19 updates to politics and crime and everything in between, it can be difficult to keep pace. With that in mind, The Regina Leader-Post has created an Afternoon Headlines newsletter that can be delivered to your inbox daily to make sure you're up to date with the most important news of the day. Click here to subscribe.